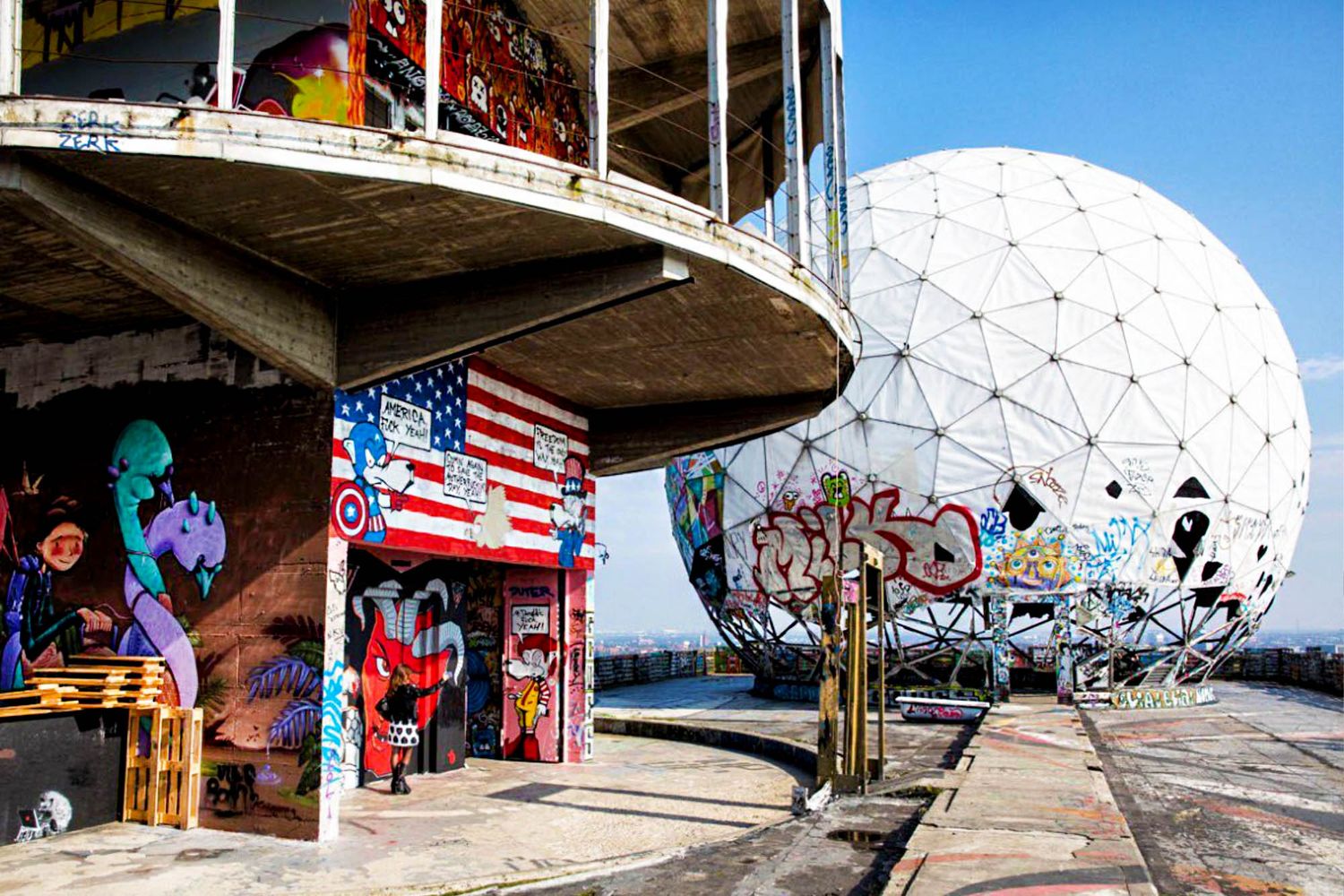 The extraordinary development of Urban Art in Europe (2/2)
Sarah Guilbaud • Posted on March 31, 2022
The Netherlands and England are quickly affected by the graffiti movement that swept across Europe after the United States. But France, Germany and Spain are not left behind too.
The beginnings of Graffiti in France
In Paris, Graffiti got off to a fast start: in 1952, Guy Debord (theorist of the Situationist movement) wrote in chalk on a wall a phrase borrowed from Rimbaud: "Never work". In 1960, the photographer Brassaï published "Graffiti", the result of thirty years of research. He saw Graffiti as a form of raw, primitive, ephemeral art and described it as an art form. In 1966, Ernest Pignon-Ernest opened the way and made stencils in the Vaucluse. In the 1970s, he produced screen-printed posters. His famous "Rimbaud" is still a reference today. Then comes May 1968: the political, poetic and graphic messages come from students who write these slogans with a brush, a roller, a spray can or on screen-printed posters. It is from these illegal and militant posters that a Parisian tradition of Graffiti with an aesthetic vocation is born. Parisian punk bands are not to be left out, they use handmade posters and stencils. At that time, many artists were also interested in the movement: Gérard Zlotykamien (who started to paint with spray cans in 1963), Epsylon Point, Blek le Rat, Jef Aérosol, Jérôme Mesnager, VLP, Nemo, Combas, Speedy Graphito, les Frères Ripoulin, Miss.Tic, Mosko & Associés…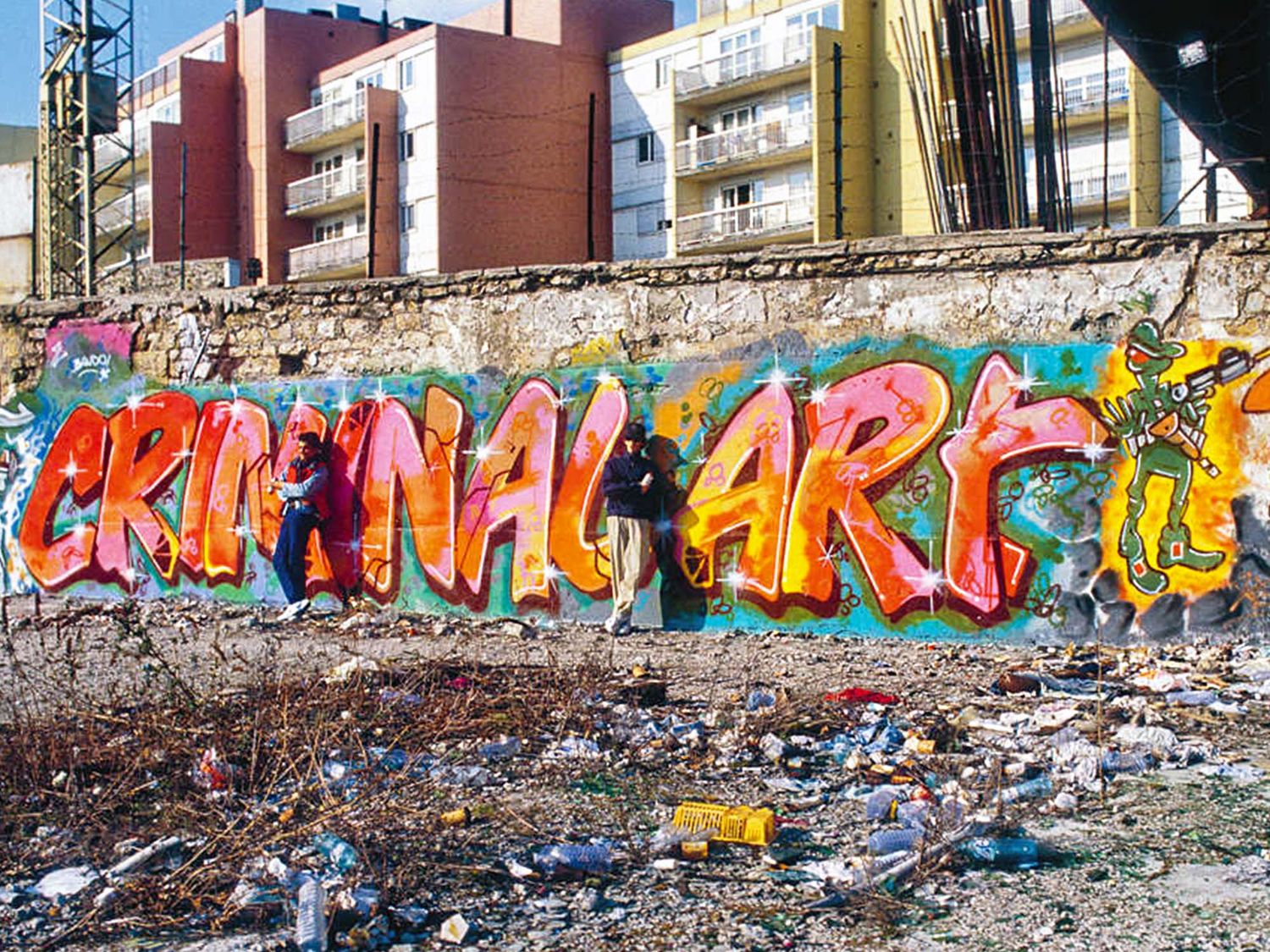 Besides the street, the catacombs of Paris (so dear to Psychose) are an important place for Graffiti from the start, which appears in France in 1979, with Spirit, Blitz and Asphalt, who founded the first crew: the "Paris City Painters". In 1982, Bando, a Franco-American, imported this art from the United States and invited American artists to Paris. With Ash, he created the "Bomb Squad 2". At the same time, the "Bad Boy Crew" is formed, one of the largest groups of graffiti artists in Europe. The wasteland of Stalingrad-La Chapelle quickly became a popular place where Lokiss, Scipion, Skki, Saho, Nasty, Shuck2... also met. At the time, Paris attracted many European and American graffiti artists. New York graffiti is found on the banks of the Seine, the palisades of the Louvre and the Pompidou Centre, and then gradually spreads to the suburbs. In 1985, Mode2 formed the first European crew, "Crime Time Kings", with Bando and Shoe.
In Germany, from Munich to Berlin
Bando then plays a major role in influencing the emerging European graffiti scene. This is particularly the case in Germany. Between 1983 and 1986, in Munich and Hamburg, the New York trains and subways held no secrets for Loomit, Stone and Neon. "Wild Style" and "Subway Art" were also there. From the mid-1980s, they made a name for themselves by decorating Deutsche Bahn carriages. In Hamburg, in 1983-1984, the scene is already dynamic with Hesh, Daim and JBK. It took off in 1986, the year Loomit, Blash and Rosco went to Berlin: Poet, Phos4, Amok, Shek, Odem... are very active there. From 1989 to 1996, the Friedrichstrasse train station (and its train yard at the border between West and East) became then an important meeting point for all writers.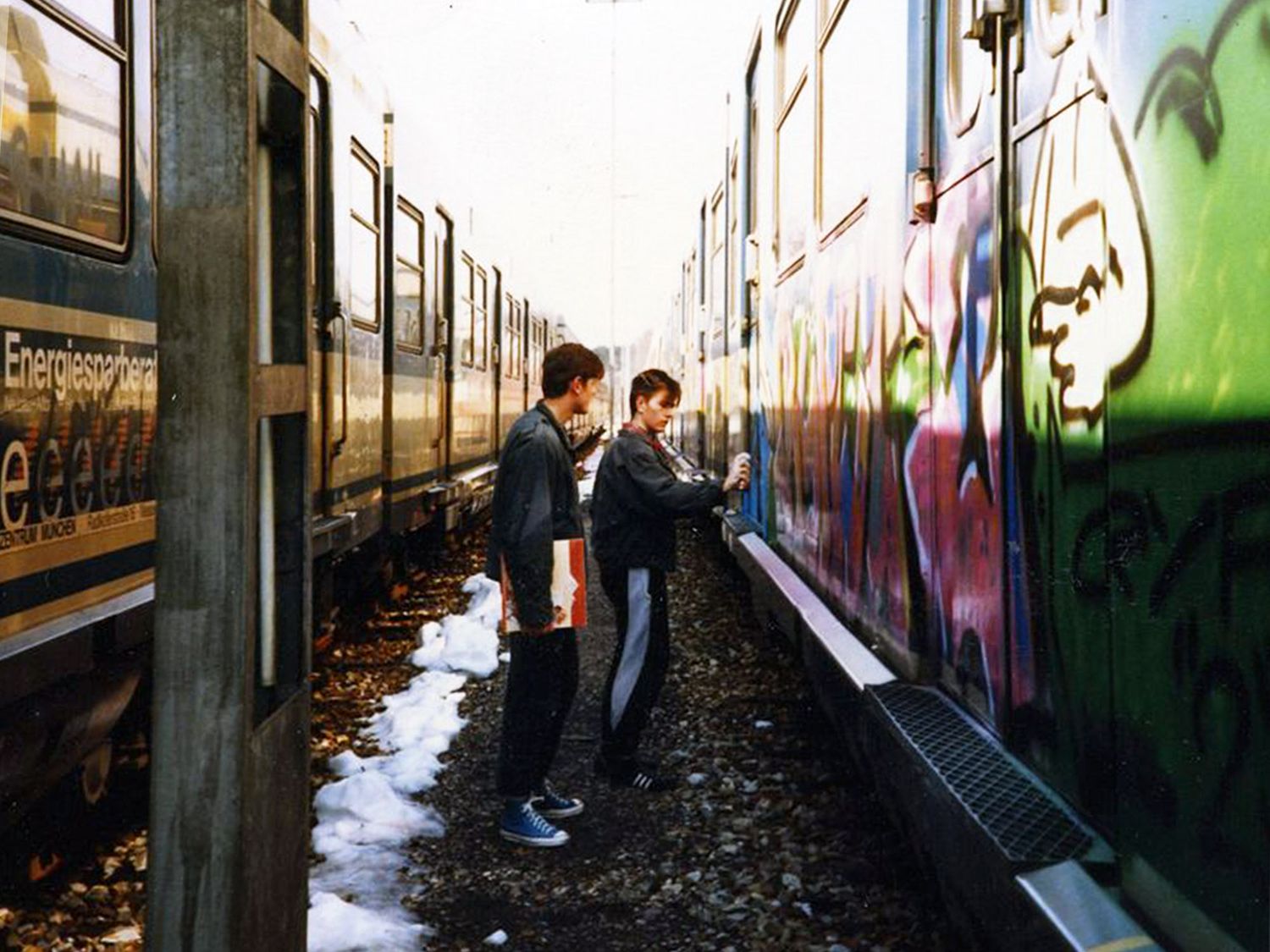 In this city, the history of Graffiti is also closely linked to its wall: built in 1961, it welcomes slogans and messages from West Germans. A hot spot of punk, rock and alternative movements, Berlin then represents the pinnacle of art and counterculture, with graffiti increasingly visible on the walls. In 1984, Thierry Noir, a Frenchman originally from Lyon, was the first artist to paint the wall to its full height. In 1986, Keith Haring painted a 100 m long fresco on the wall! Today, a 1.3 km long wall remains at the Eastside Gallery, which has become a "Hall of Fame" for graffiti artists from all over the world, with iconic works. More recently, since 2003, the vandal crew 1UP ("1 United Power") has been making a name for itself: trains, metro stations, streets, rooftops... everything is covered! The German capital is still marked by it today. On a street corner, it is also common to see a portrait by Kobra, pieces by MTO, Xoooox, El Bocho or Alias.
The rise of the Barcelona scene
Later, Graffiti and Street Art arrive in Spain. Hip-hop culture broke through later than in the rest of Europe but graffiti invited itself with. As a city of passage, Barcelona attracts many artists and becomes a place of choice and many local artists such as Fasim, Moockie or El Xupet Negre get to work. In 1989, Keith Haring painted a mural in Barcelona to denounce the ravages of AIDS and which will had an incredible resonance within the artistic community.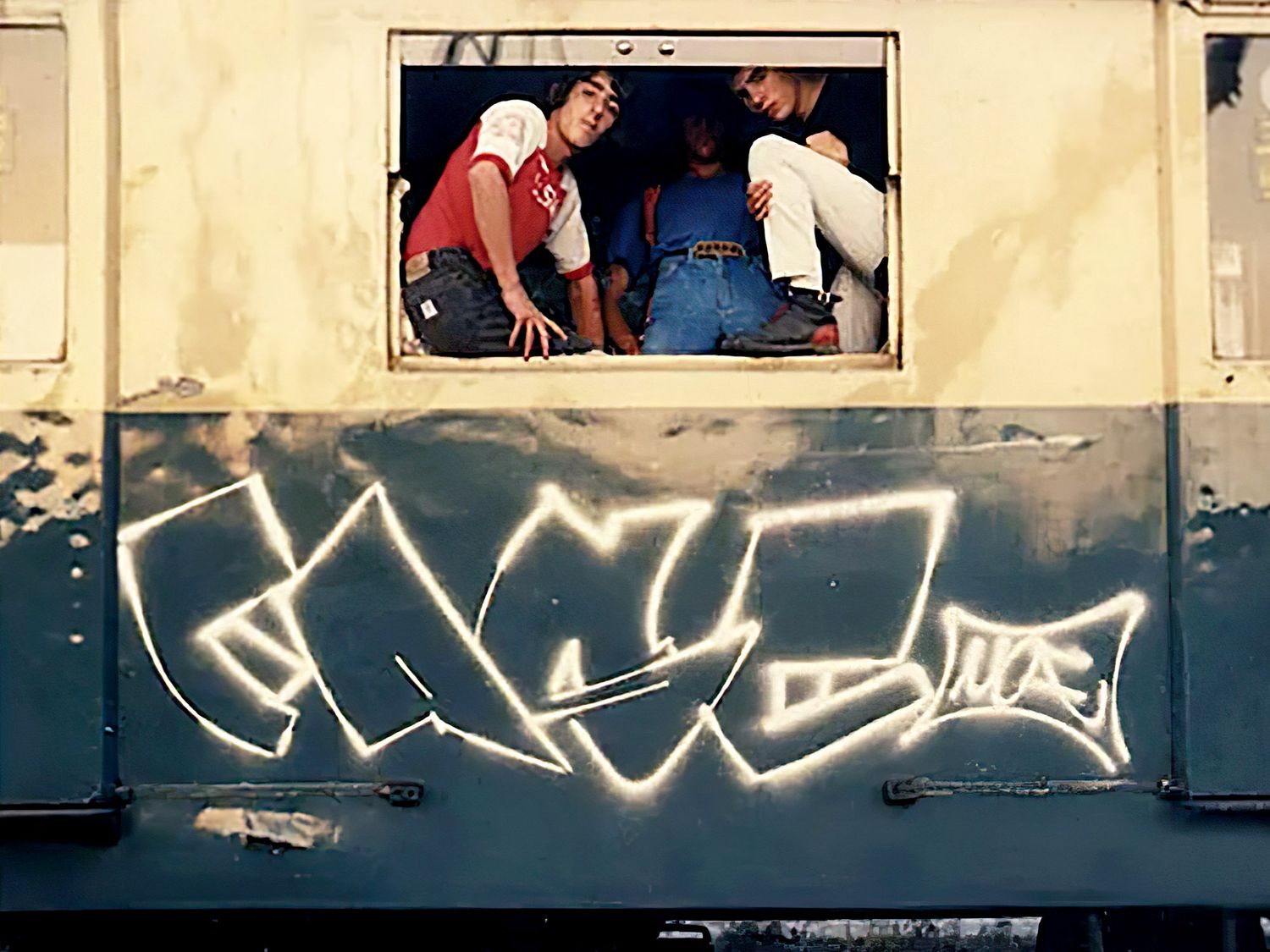 However, it was not until 2000 that Barcelona's street art reached its peak. At that time, it was easy for artists to express themselves: they did not risk prosecution and could paint in peace. The city becomes an open-air space for creation. Until 2006: this "world capital of Street Art" banned Urban Art. Nevertheless, the city hosts a lot of creative and atypical graffiti. Pez is one of the big names on the Barcelona scene. He put down his signature in 1999, a signature that evolved into a fish with a broad smile. Originally from Toulouse, it is also in Barcelona that Miss Van evolves. She started painting at the age of 20, in 1993, which made her one of the first female street artists. We can also find Art Is Trash, El Xupete Negre, Kram... It is also in Barcelona that Montana Colors, the largest factory of graffiti material, is created. The circle is complete!
Share this article