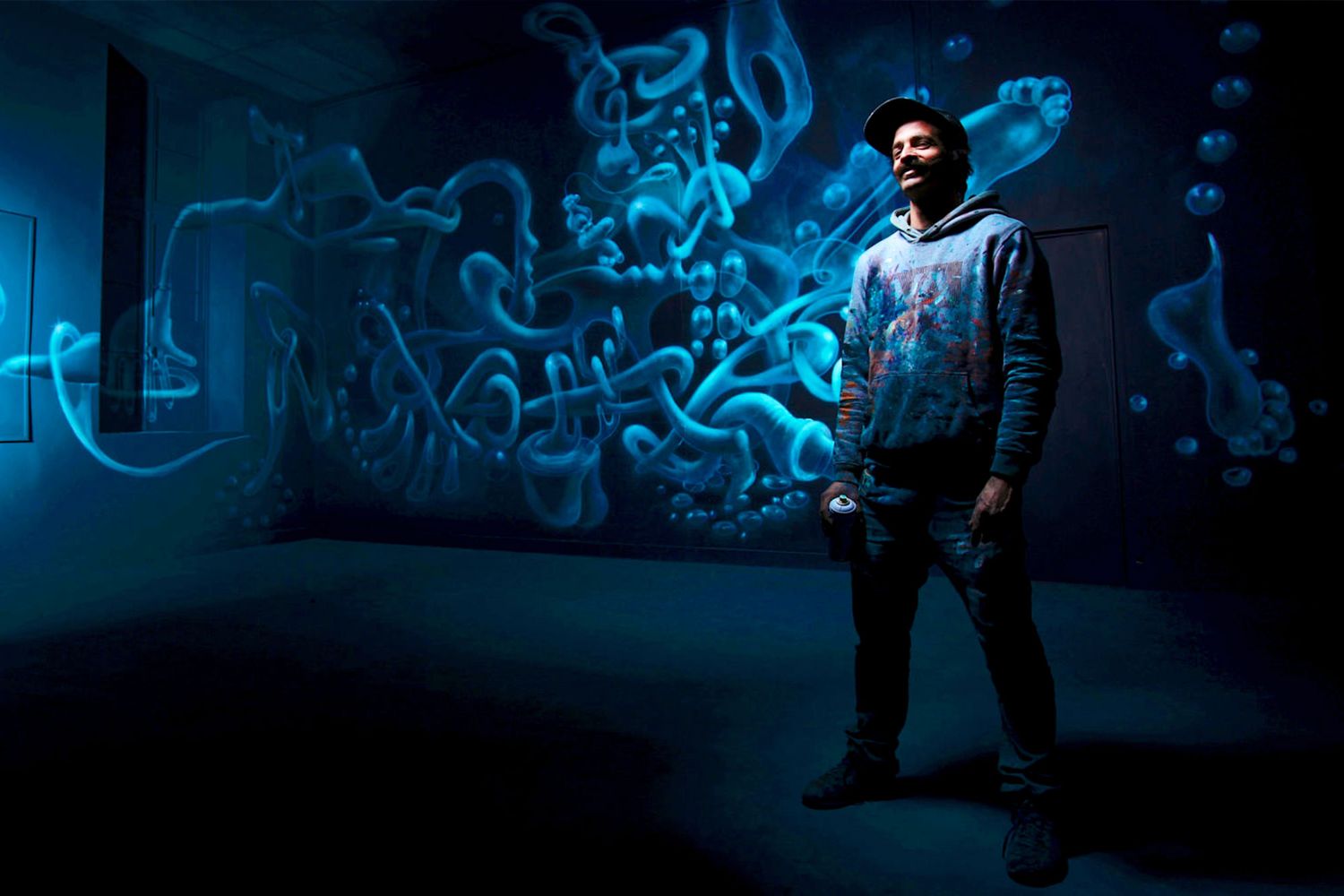 Charles Foussard: "This aesthetic has imposed itself on me"
Violaine Pondard • Posted on October 1, 2021
Prolific artist from the Bordeaux scene, Charles Foussard frames his surreal Pop paintings under the arches and ashlar bays of the capital city of New Aquitaine. Laid on concrete blocks or wood panels, his street works are true masterpieces inspired by ancient painters and the Californian Lowbrow movement. Fond of large formats and urban wastelands, he is also used to painting over the bunkers of the Atlantic coast to bring them a new life through art. In the studio, he transposes this energy to further develop his writing and work on canvas compositions rich in details mixing the real and the unreal. Interview.
When did you start painting in the street and what was your motivation?
I was born in Bordeaux but I spent my teenage years in the Reunion Island where I started painting in the street, inspired by the various images of graffiti that I found in specialized magazines at that time. Whether it was tagging or flopping, I was able to create in complete freedom. During my time in Reunion Island, I also became passionate about boardsports and I quickly realized that surfing also responds to codes such as in the graffiti. It is a culture that is lived in immersion and with a clear hierarchy to respect. Back in Bordeaux, I was going to surf at Cap Ferret and I discovered these old bunkers painted by previous generations of graffiti artists. I just wanted to do like them.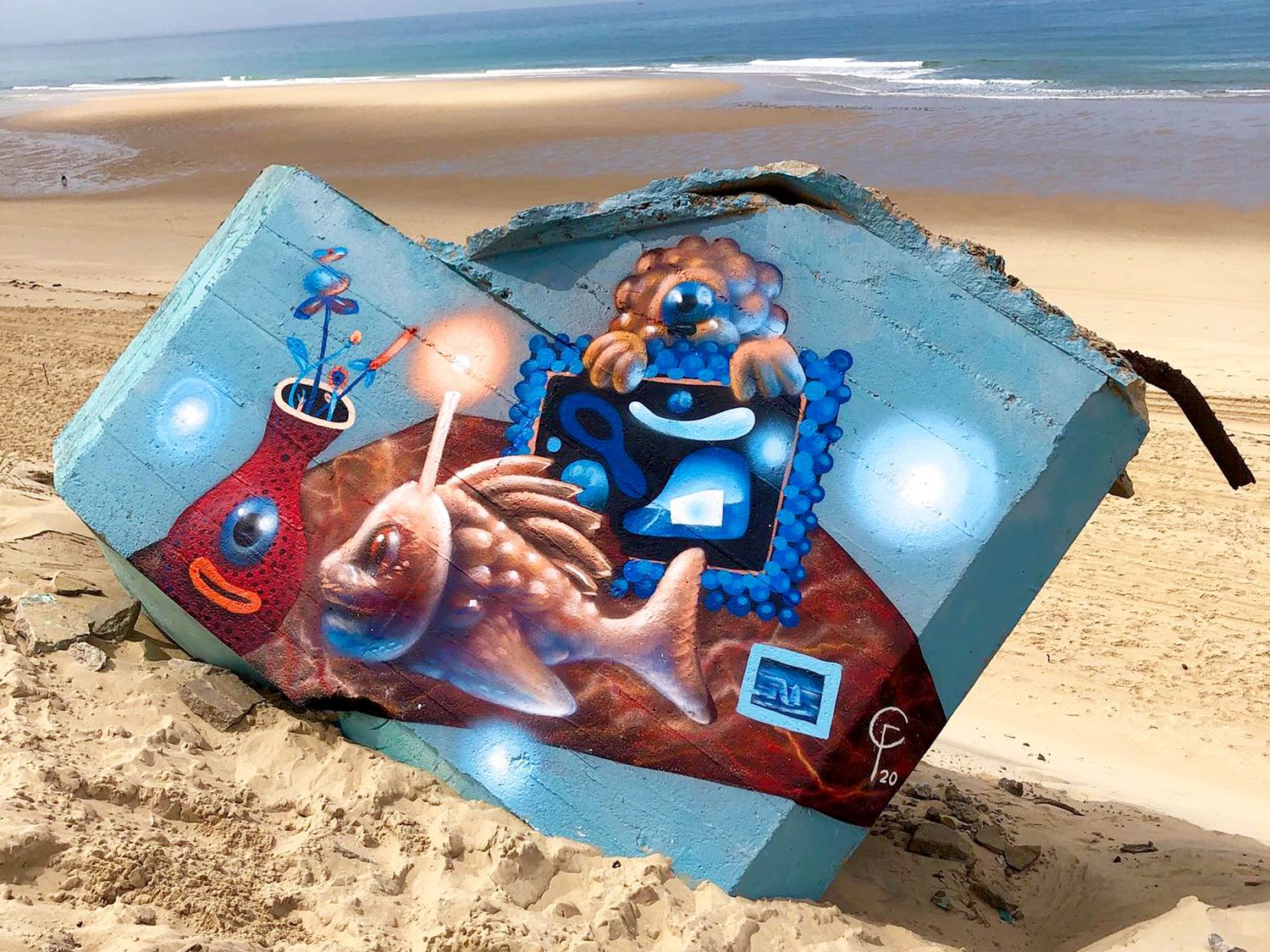 How do you choose your medium?
After many paintings in wastelands, I have been working in downtown Bordeaux recently. I spot my walls in advance, by riding the streets with my bike. I pay a strong attention to public spaces before painting them. When I choose a wall, I always take a picture of it from a viewpoint that allows me to determine the future rendering and the perspectives of my street work. When I want to paint a bunker on the Landes coast or Cap Ferret, I always calculate the tide times, I have acquired some serious weather skills! I want to be sure to see a wave breaking on their walls, to capture the reflection of the work on the water. When you paint outside, it's totally ephemeral and what remains today are the pictures.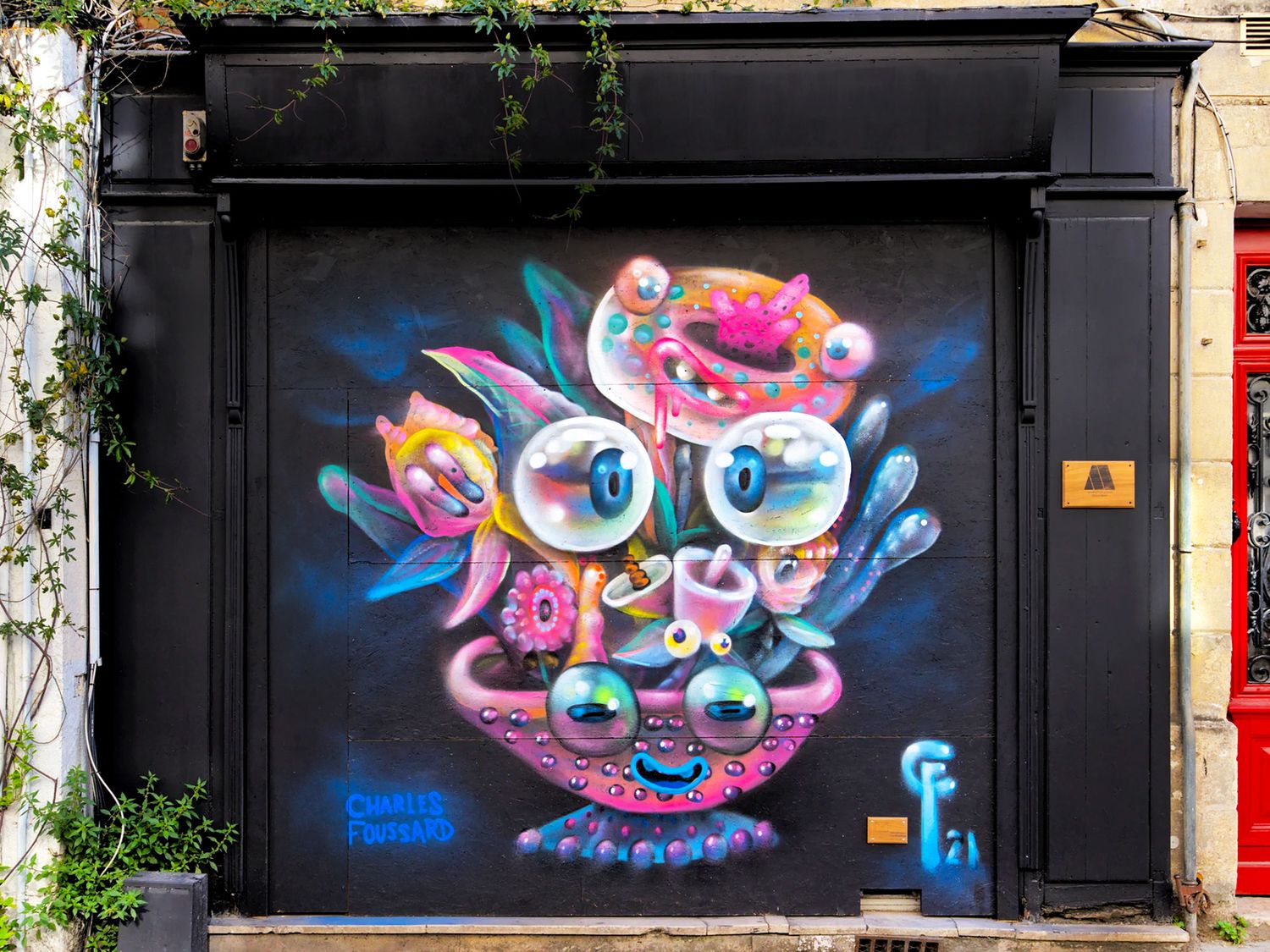 Today, your work is balanced between the street and the studio. How do you live this permanent back and forth between the two?
I paint all the time. Whether on a canvas or on a wall. My rhythm is to paint in the street twice a week, but sometimes it's five times a week. And the more I do, the more I can allow myself to improvise. The ideas come one after the other, based on my mental imagery. The work is built up in this way, alongside the wall. The spray allows me to go fast, it is an instantaneous tool. The result is immediate, there is something which is obvious. On the other hand, working in the studio is totally complementary. It requires more time and immersion. It's definitively not the same energy as for a wall, where the gestures are more relaxed. Switching to small formats and acrylics was complicated at the beginning. The canvas represents a much more personal work, where I can bring much more details.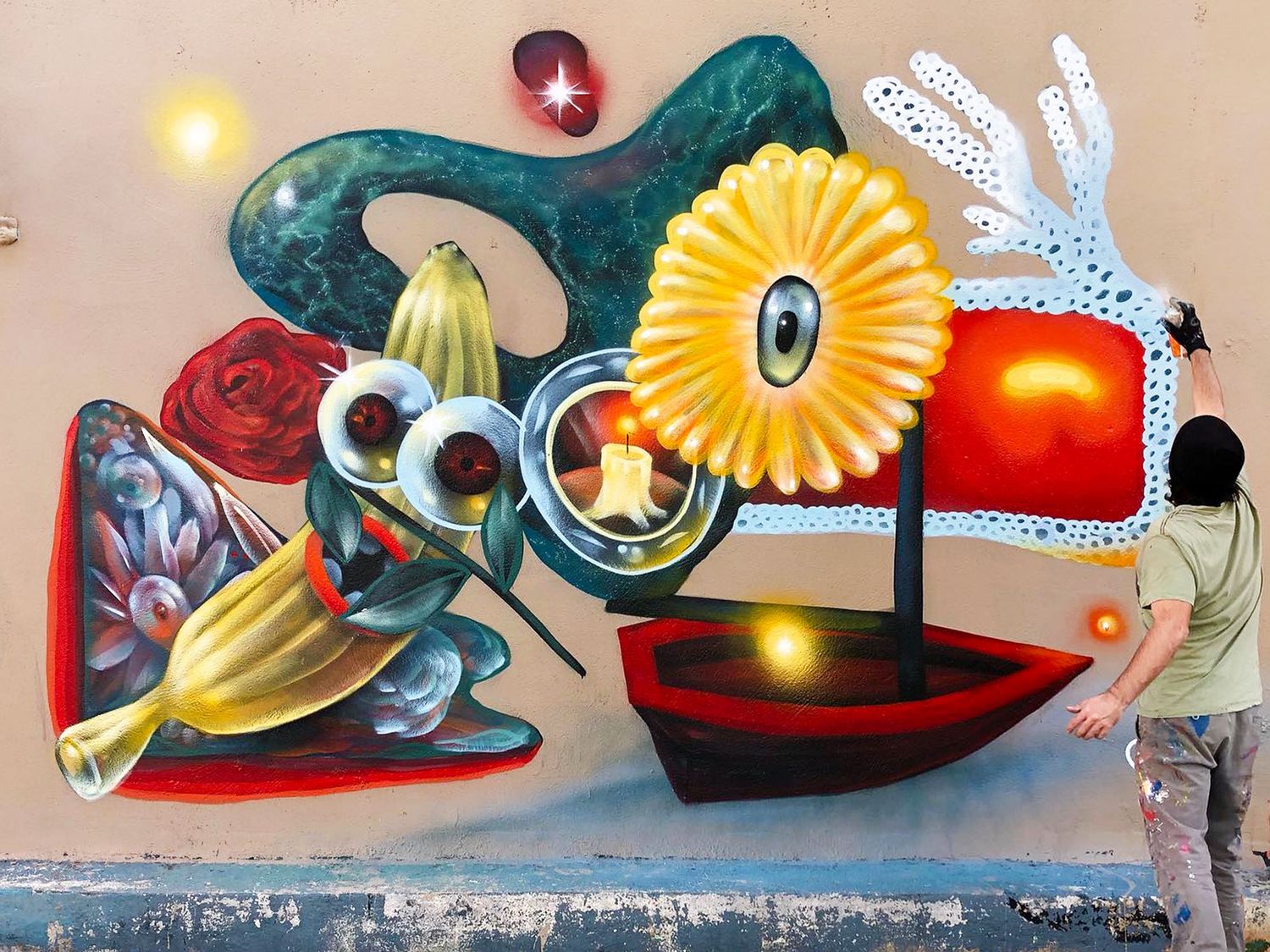 Your style is inspired by the codes of Pop Surrealism. What feeds your approach?
Dalì was my first aesthetic shock, when I went to Figueras with my parents at the age of 11. I was touched by the delicacy of his features and the discrepancy with reality. This way of treating the strange with a refined technique. I don't really like labels but I know that my practice makes me fit into the post-graffiti movement. My style is inspired by Pop surrealism, an aesthetic that literally imposed itself on me when I discovered it in the Juxtapoz magazines and books, or even the Hey! exhibitions. I identify myself with this movement as it allows me to be always on the border between the real and the unreal. I am able to revisit the classics of painting, while adding new cultural references that are related to another era, offering then to the viewer a moment of contemplation. My objective remains to develop my writing, to go further. Both in the abstract and in the figurative. Today, urban arts have exploded, there is a real diversity of artists and you have to find your place.
Discover the profile of Charles Foussard and his available artworks.
Share this article